Welcome!
Posted in General by vbalways
Welcome to my CashCrate blog. I decided to start blogging about my enjoyable experience on here. Let me introduce myself and how I found CashCrate.

My name is Dan and I have a couple college degrees in Computer Technology (Digital Design and Animation field) and Computer Science, respectively. After graduation, I started filling out applications for every company in my area that I could. A lot of these companies rejected me, and some I never heard back from, so I had to work in a seasonal retail position for a little bit just to save some money at the time.

Meanwhile, I was looking for other means of income, and I found CashCrate. I read the description of the website, and I knew it was GPT (Get Paid To) in which I was familiar with because I was a member of a website that revolved around game points. I decided to give CashCrate a try and to this day, I honestly have no regrets.

With CashCrate, you can get paid for several different things:
- Checking In
- Complete Offers
- Doing Surveys
- Watching Videos
- Playing Games
- Participating in Contests
- Cash Tasks
- Referrals
- And much more!





There was a Halloween contest last year on CashCrate, and this was my submission. I tied with another member for First Place, and it was great seeing what everyone else was dressed as. I look forward to new contests like these!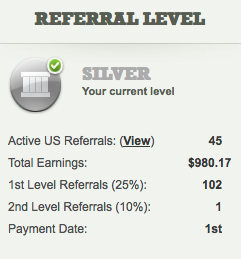 As of this blog entry, I am at Silver level. This means that more benefits and payment options have been opened up to me. To earn this level, you must reach $500.00 or have 50 Active US Referrals. For me, I earned $500.00 quickly just by being persistent with CashCrate. My main goal is to hit the Elite level so I can receive the maximum benefits of CashCrate.

Over 6 Million members have joined CashCrate. I will keep you all posted on my adventure, and I hope you can tag along and see for yourself how fast and easy it is to make money on here. Wish me luck!

-Dan (vbalways)